On n'est pas des A4, 2022 (wooden beams, twill nails, A4 papers, acrylic paint, plasticine)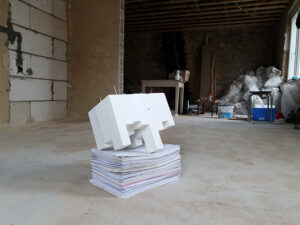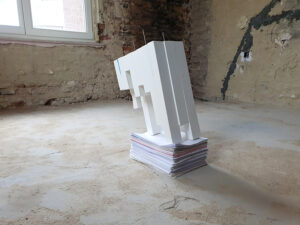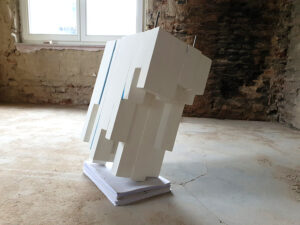 Le Désespoir de la Recherche et le Temps qui passe, 2014-2020 (collection of the Verbeke foundation – wooden boat and walking canes)
Brussels North, 2018
In situ installation of 3 panels in an abandoned phone booth on platform one of the train station Brussels North.
One panel with collages all made with pictures of a photobook about the Balkan war in 1990. One panel with memory notes of a Dutch student learning arabic and one panel with the tekst: Et Pour Les Flamands La Meme Chose. A sentence used by Flemisch nationalists to prove their oppression during ww1 by the French speaking part of Belgium.
People, Lines, Dust 2014
Projection with mini beamer on floor and wall of an abstracted crowd of people.