by Admin on 10/16/2019
Frédéric Castiau (°1963 Brussels)
Master in Audiovisual Arts (RITCS, Brussels)
Gentsesteenweg 232a | 1080 Brussels, Belgium
Fcpcastiau(at)gmail.com | mob: +32 (0)495 18 46 2
Expo:
2020 November2019/April – Belgian Contemporary Collages BCC#2 – group expo – Verbeke Foundation, Kemzeke
2019 April/October – Belgian Contemporary Collages BCC#1 – group expo – Verbeke Foundation, Kemzeke
2018 October – Baboon Eat Roots – solo expo – Castle Le Paige, Herentals
2018 May – Coup/e/e – group expo – train station Brussels North, Brussels
2018 November2017/April – Mouvement Solitaire – solo expo – Van Iseghemlaan 53, Ostend
2017 May – So Lucky In Brussels – group expo – La Vallée, Sint-Jans Molenbeek
2016 November – Prix d'Art du collage de la fondation Andrée et Pierre Arty – group expo – galerie Pascal Polar, Bruxelles
2016 May – World To Come – solo expo – P.U. Gallery Werfkaai, Brussels
2015 May – Collage Minimal – group expo – Verbeke Foundation, Kemzeke
2015 April – The Rich Die Last – solo expo – Miniemen Church, Brussels
2013 May – It Doesn't Matter – solo expo – Villakula Gallery, Aardenburg Netherlands
2010 Oktober – Essentials – solo expo – T.A.G. Gallery, Brussels
2010 February – Nieuwelingen (Kunst In Huis) – group expo – Cc Westrand, Dilbeek
Voor zijn laatste reeks schilderijen vertrekt Frédéric Castiau van collages die hij maakt van precies uitgezochte foto's. Hij schildert ze olie op doek. Licht en donker worden vertaald in welbepaalde kleuren. Delen van deze schilderijen dienen op hun beurt weer als inspiratie voor anderen. Op deze manier manipuleert hij stelselmatig de oorspronkelijke foto's tot er een nieuw beeld ontstaat met een herkenbare eigenheid, los van het realistische origineel.
Pour sa dernière serie de peintures Frédéric Castiau commence par des collages réalisés à partir de photos sélectionnées avec précision. Il les peint à l'huile sur une toile. Lumière et obscurité sont traduites en couleurs spécifiques. Certaines parties de ces œuvres servent à leur tour d'inspiration pour des nouveaux tableaux. De cette façon, il manipule systématiquement les photos originales jusqu'à ce qu'une nouvelle image émerge avec une individualité reconnaissable, séparée de l'original réaliste.
For his last series of paintings Frédéric Castiau starts from collages made from precisely selected photos. He paints them oil on canvas. Light and dark are translated into specific colors. Parts of this works in turn serve as inspiration for other ones. In this way, he systematically manipulates the original photos until a new image emerges with recognizable individuality, separate from the realistic original.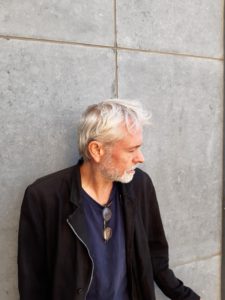 Een schilderij is in de eerste plaats een object door één mens gemaakt – april 2020.
No Comments